Photos Specifications Tunings Home Kevin Kastning on the C2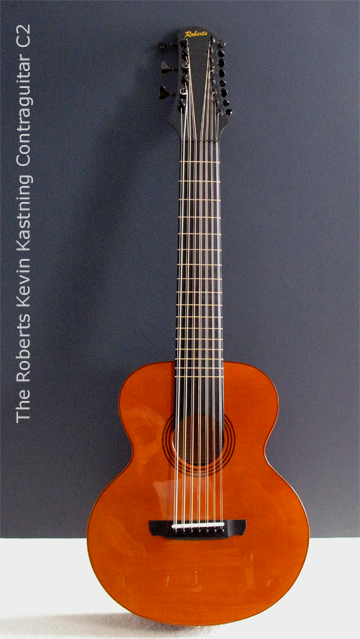 hen Kevin first approached me with the desire to build a 14-string Contraguitar, I can say that one of my personal emotional responses was trepidation. I had built 7-string baritones as a special instrument to take to the NAMM show when I was with Santa Cruz Guitars (SCGC), and a number of other instruments that were solidly outside the norm and they always seemed to take forever to sell. In short, I had become very resistant to building instruments that fell outside the envelope.

Kevin, on the other hand had been an SCGC artist endorser and friend for close to 10 years at that point, and we had a perfect record when it came to building unusual instruments. Each of which had been successful for Kevin in terms of his ability to incorporate them into his music and in fact to allow him to evolve his music in a direction that would have been impossible without those instruments.

Both the KK Baritone (DKK), and the KK Baritone 12-string (DKK-12) were outside of what SCGC had previously done (longer scale lengths etc), and while others had built baritone guitars with these longer scales before us, the intended range was higher than those intended by Kevin. This meant that while the KK Baritone wasn't entirely new in terms of scale length and the naming identification of baritone, it was new in terms of requirements such as string gauge, required tuners, etc. "A" tuning is standard (if there is such a thing as standard tuning for baritone guitar).

Kevin now tunes the KK Baritone to essentially a 6-string bass tuning (EADGBE), but had originally tuned it to F# (a whole step above a bass tuning). However, the intention of an acoustic bass guitar is usually as a bass rhythm instrument. Kevin uses a lot of harmonics and wants significant overtone support and isn't using it as essentially a rhythm instrument, but instead primarily a melodic instrument. High-tension strings and tunings suitable for creating a hard-driving bass line kill the resonance, complexity of overtone support, and harmonics required for creating Kevin's musical vision.

These differences mean that Kevin and I have had to modify tuners to take larger strings, as well as extensive research and experimentation on string gauges, tensions, etc.

The KK Baritone 12-string took things a bit further and enabled Kevin to start tuning what would normally have been octave or unison strings to varying intervals relative to the root strings allowing a stunning complexity in chord voicings and tonal palette.

When Kevin wanted to start work on the 14-string Contraguitar, I was still at SCGC and was concerned about the fact that it would be difficult to build it profitably, and that it would not fit well within the context of a boutique custom shop whose success required quantifiable production each and every day. Guitars falling in and out of production cost the company a lot in terms of productivity.

Furthermore, the tension on this instrument would greatly exceed anything I had even thought of building before. I wanted to stay with an X-braced system like I was accustomed to, and felt that the KK12-string, though having fewer strings and tuned higher across the board, had shown that an X-brace should be able to support the extra tension. At some point as we discussed the instrument and its unique engineering, we inevitably had the discussion regarding how we wanted to approach it, possibly overbuilding to ensure its longevity or go with my intuition....and erring on the side of a light and responsive instrument capable of delivering the balance and tonal requirements Kevin required, with the possible (but unlikely, I felt) outcome that it could be prone to tension problems. Kevin was clear that he did not want an instrument that would hold up but not give him tonal satisfaction and that he was willing to trust me along these lines. He never wavered in his belief that based on previous collaborations, I would be able to design and voice this instrument if anyone could. That kind of faith from such an amazing talent as Kevin goes a long way towards creating confidence and fearlessness, but it also carries a terrible liability. He had explained to me that his chosen musical vision depended on the success of this instrument. His compositions were already demanding the tonal palette and range this instrument would provide. On the other hand, I also knew that such a stellar talent would not be defeated in the case that the tension proved too great. Either we would find another way to build the instrument or he would find another way to achieve his musical vision.

We went ahead with the design, and eventually tried to put it into the schedule, but while there were always good intentions, it didn't really fit in a production schedule and so eventually it was just decided that it wouldn't happen at SCGC.

Kevin and I designed an Alto 12-string guitar (KK-Alto) which fit more easily into the production, and about that time I left SCGC to follow my own vision as a builder. Kevin came to me then and asked if I would build the Contraguitar.

We thought we had most of the design solidified in our heads, so eventually, after getting the new company going, I agreed.

It turned out as we moved forward we had to make many changes; for one thing Kevin was able to play more extended range instruments and was able to mach up some test necks and fingerboards etc., and discovered that with the string spacings he required, neither a 16-string nor an 18-string would be possible. The KK12-string was built more along the lines of a normal 12-string in terms of neck width, and as his playing style evolved and with intervallic tunings required additional technique evolution, he had found more and more that he required string spacings between the courses based on classical guitars, which also constitute a part of Kevin's guitar palette. This meant that the DKK-12 had become almost unplayable in utilizing his most contemporary techniques and stylings. To incorporate that kind of wide spacing, 14-strings turned out to be just about the maximum possible strings, and with one single scale length, we would later find that the range we had agreed upon limited the highest course (A) to tight intervallic or unison tuning; octave tuning wasn't possible for the high A course. Similarly, on the bass side, the next lower step (B) proved physically impossible with only a 30" scale length. We had reached the limits of range without variable or multiple scale lengths at exactly the point that Kevin was limited in terms of width of neck!

Kevin received the first Contraguitar in September 2010, and by November 2010 he was already using it in a recording session with British guitarist Mark Wingfield. During that first three-day recording session which resulted in enough material for 2 CDs, Kevin used the Contraguitar on 2/3 of the recordings. By the end of that recording session, Kevin said he had established that the Contraguitar had established itself as his main instrument, and that he needed another so that he could keep one in Concert tuning and the other in specialized intervallic tunings, which can take considerable time to tune and in some cases can even require special string gauging to optimize.

In November 2010, Kevin asked me to build another Contraguitar. Kevin and I refer to the first Contraguitar as C1 and the second as C2. Over the next 12 months, Kevin had at least 10 important recording dates with Alex De Grassi, Carl Clements, Michael Manring, Gilbert Isbin (a Lutenist from Belgium), cellist David Darling, and another with Mark Wingfield. As time went on, though C1 proved itself to be capable of hanging in there for the long haul, we had a number of minor issues surface regarding bracing, bridge, etc. The 300-400 lbs. of string tension was causing a drop in the top in front of the bridge and a belly behind the bridge. While this is fairly common even in standard 6-string instruments, especially in light sensitively-built instruments, the additional tension caused me some concern. As little issues started to surface, Kevin sent C1 back to me a couple of times. Upon investigation I saw that the extra tension had caused a minor opening of the X-brace junction, and was causing some minor issues with the bridge as well. I removed the strings and reglued the X-brace, and then I capped it so that it could never open again like that. Since then, I not only incorporated that detail into C2, I also incorporate a beautifully detailed and carved brace cap on all my other steel string guitars now. I also carved and glued in a small radiused and scalloped brace running along the front edge of the bridge plate to additionally support the top and sound hole in front of that heavily loaded bridge. With minimal added mass but increased integrity, it actually improved the sound, as well as structural integrity. The bridge tip and bellying was stabilized at a very acceptable level, has great future integrity, and the tone has just gotten better and better.

On C2, I altered the bracing to include three smaller tonebars, increasing the integrity of the top behind the bridge without adding much mass at all, Added the brace in front of the bridge plate as well as two short small braces shoring up the front and rear legs of the X, one on the treble side and one on the bass. These 3 extra braces are all small and short, similar to the side struts or finger braces, and add very little mass compared to the overall increase in tension, yet they allow C2 to be as light and responsive as C1 while the top appears absolutely solid with no trace of bridge tip whatsoever!

Kevin asked that since we had chosen to use European maple as the back and side wood for a completely different tonal palette, and given his preference for the classical guitar and violin aesthetics, that we try to do a violin-like finish. First we tried using a shellac finish as the tint but the amber colors we used weren't dark enough and tended to just make the guitar yellowish amber and very bright. I then decided to mix a tint that I would eventually call Cremona Brown, from a combination of tobacco brown, mahogany red/brown, and amber. I used these colors to tint the first couple of coats of lacquer and sprayed that over the shellac, thereby preserving the amazing chatoyance that comes with shellac, while deepening the color to a nice rich violin color. I didn't like the idea of leaving the ivoroid binding dark, the same color as the wood, but Kevin preferred it that way and in the end I felt that it made it look much more related to the violin family aesthetic, and quite elegant. Good call, Kevin!

We also went with a compound radiused fretboard.

C2 is proving to be a wonderful musical companion to C1, and is structurally quite an interesting engineering solution considering the tension supported by this still thin and fairly lightly braced top.

Next stop for Kevin and I will be two 16-string classical guitars for Kevin and his musical collaborator and well-known Hungarian guitarist, Sándor Szabó.

Speaking for myself I can't imagine a more challenging and fulfilling relationship than the one that has unfolded between maestro Kastning and myself. The degree of challenge I encounter in these projects is somewhat intimidating, often frightening, and always gratifying!

- Daniel Roberts,
Daniel Roberts Stringworks
Belgrade, MT
January 2012

14 strings
European flame maple back and sides
Body depth: 5.25 inches at tailblock (13.3 cm)
Carpathian red spruce top
3.25 inch nut (82.5 mm)
30-inch scale (762 mm)
Ebony headplate overlay
All maple/dyed maple purfling and rosette
Bracing/voicing: double-tapered, knifed, and scalloped
Three tonebars + asymmetrical finger braces
Flamed red maple neck and heelcap
Banjo-cut headstock profile
Ebony fingerboard (12" to 18" compound radius)
Jescar EVO frets
17 frets with a fretless area in the upper register above 17
7-pin ebony bridge
Bone compensated 1/4-inch saddle
Maple bridge plate
Ebony nut
Ebony unslotted bridge pins
Cremona violin stain
Tuners:
Gotoh compact bass (3)
Steinberger (3)
Grover locking mini-Rotomatics (8)
E (bass) thru A (alto)*

For C2 string gauges, see the gauge chart.
*This is the octave tuning; I will be using many intervallic tunings, such as the DKK-12 examples on the tunings page. There are more tunings possible, and I will post those soon.

This photo gallery chronicles the birth of C2, from tonewood selection in November 2010 to completion in December 2011. Hover over the center of the photo for navigation controls.