Nowhere, Now Here: Reviews and Press

Kevin Kastning & Carl Clements - Nowhere, Now Here
Kevin Kastning, acoustic guitarist extraordinaire, and Carl Clements, reeds player of repute, team up again on Nowhere, Now Here, their latest foray into sonic landscapes of gently rolling hills, autumnal mists, and big skies.

Without further ado, watch the video below and you can hear Kevin and Carl play the first piece on the album.

http://www.youtube.com/watch?feature=player_embedded&v=Tvju28eEsTg
On this song Kevin plays one of his inventions, the acoustic monster that is the 30-string contra-soprano guitar, the instrument featured in the video montage. Accompanied by Carl's soprano saxophone, the duo weaves a tapestry of delicate yet strong sound that sets the scene for the record.

Occupying a space where melodious free jazz, acoustic improvisation, chamber music and ambient music meet for a nice civilised cuppa, these songs are all highly intricate affairs, the two players complementing each other's highly developed sense of space and musicality perfectly. All the compositions are credited to the two of them, and it is not indicated anywhere on the CD or in the press release if this is an improvised or scored work. It certainly sounds like it was scored, but conversely, and given the high skill levels of these two musicians, it could easily have been improvised.

Leaving that aside, it is the case that the combination of instruments here lends the music a more organic and slightly less cerebral feel than some of Kevin's other works, solo, or in tandem with another guitarist.

The other inventions of Kevin's to feature on this set are the 17-string and 16-string Contraguitars, and Carl also plays tenor sax and alto flute, the latter given a first showcase on the sublime Somewhen. The modal melodies and spaces left are superbly highlighted on the feather-light and suitably titled Incomparably Light And Repose, and, like all the other compositions here, will reveal so much more when listened to on a good set of headphones. Greydisc Records are known for their high quality audio, and this CD is no exception. Thankfully, you will not find any of that modern malaise here; the loudness and compression that is prevalent nowadays in all genres of music as a sop to the cloth-eared mp3 generation.

Deceptive Corridors Passing features more of Carl's breathy alto flute and some dexterous picking from Kevin, again on the 30-string guitar. There is a lot going on here, background becomes foreground and vice versa as we float off on a blissful reverie.

This album is near on capacity length for a CD, but such is the nature of this deeply involving music that one does not really notice the passage of time. I would recommend however that you do not use this as background music as a lot of it will pass overhead un-noticed, a fate that it does not deserve.

The spatial exploration continues on Rust In Form, an extremely unhurried oxidisation of song structure, by the sound of it, and quite a challenge. When the pace picks up on the following Overmorrow II, another combo of the 30-string and the alto flute, Carl gets quite animated and some fast contrapuntal fretwork from Kevin presents us with a neat examination of the duo's intuitive interplay. I would like to hear these two in a band format, possibly playing a take on jazz fusion that I've no doubt would be breathtaking.

When these songs take on form, Carl is the lead player, as on the following Woven Sunlight And Leaving, wherein his soprano sax calls out through the mists, a beautiful keening but not strained sound, which Kevin follows with nimble-fingered ease, this time on the 17-string Contraguitar.

The 30-string really comes into its own on First Hovering; First Vanishing. This instrument has an astonishing range, and the nearest equivalent I can think of in the rock world is the touch guitar as wielded by Trey Gunn and the now countless followers in his wake.

The wonderfully titled Delirium Membrane Circuit should be a heavy beast of a thing, and in my mind's ear I can hear the abrupt intro being belted out by the new three drummer line up of the mighty Crim! Of course, it's nothing of the sort, but it is definitely angular and experimental, and something the League Of Crafty Guitarists could have fun with I'm sure.

We end the album with the restful and contemplative Both Ends Of Two Rainbows, and once again the favoured combo of 30-string contra-soprano guitar and alto flute play the soundtrack to your daydreams, and lovely stuff it is too.

Kevin Kastning and Carl Clements have fashioned a truly inventive and natural sounding album, but it is as far removed from "rock" music as can be. It is however, most definitely "progressive", and that's what it's all about, as far as I'm concerned.

Conclusion: 7 out of 10

ROGER TRENWITH
– Dutch Progressive Rock Page (HOLLAND)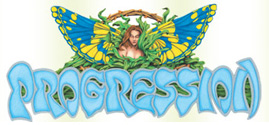 "The strong reputation of guitarist/composer/inventor Kevin Kastning speaks for itself: As composer and performer he ranks among the more intelligent, sincere purveyors of "serious" contemporary instrumental music. In fact, Kastning designs his own instruments. Here he performs on 30-string (!) Contra-Soprano guitar, a 17-string Contraguitar, and 16-string Contraguitar.

This second duo effort teaming Kevin and saxophonist/flautist Carl Clements is another series of experimental pieces requiring focused listening. To an untrained ear, the angular tangles of acoustic guitar and woodwinds might seem improvisational when, in fact, these pieces are strictly charted. This is serious stuff, occupying an impressionistic netherworld between jazz and modern classical. It's certainly not for everyone. yet despite a thorough lack of melody, Nowhere, Now Her avoids academic sterility in fostering an array of moods - from languidly contemplative to edgily pensive, and points between.

The niche audience for earnest experimental music will appreciate there 14 unconventional excursions."
- Progression Magazine (US)
Autumn 2013 issue

Kevin Kastning-Carl Clements: Nowhere, Now Here (greydisc)
Kevin Kastning (guitars) és Carl Clements (sax)
Nowhere, Now Here the two musicians' second album continues the style and music of the previous album called Dreaming As I Knew (2012)
2013. december 26.

Contemplation and the documentation of lyrical sensory experiences are the guidelines of the new album. The near 80-minute long repertoire with its 14 tracks offers a great opportunity for contemplation. (The "wise" know well that the listener becomes a higher grade medium of the real music.)

The compositions of the Kastning-Clements duo are often shaping around analogies (like Woven Sunlight and Leaving, A Whispered Believing, and Both Ends of Two Rainbows) and by the elaboration they get their power of expression. The structure of compositions are quite complicated but there are some which have special complexity, like the Lunar Incantation Precision and Overmorrow I-II. Many people conceive that the abstract form consequently comes from the the complicated melodic structure. No doubt that this statement can be verified by several examples but there are many other compositional devices, too which makes the sound of music abstract. The tracks of the new album of the Kastning-Clements duo belongs to this category.
Not the precomposed set forms, the precise systematization but the unbound fantasy and the sensitive introspection gives the real power of the Nowhere, Now Here. If we let ourselves to this music it can warm up our soul with its sensitive observation and can be poignant by its stern truthfulness.


Musicians who want to ladle of the source of music they should approach it submissively with endless devotion and veneration. Knowing Kastning's music activity it can be stated that he knows the right path to the source….

Musicians:
Kevin Kastning – 30 string Contra-soprano guitar, 16 and string 17 string Contraguitars
Carl Clements – tenor sax, soprano sax, and alto flute

– Mihály Czékus
– Gondola Magazine (HUNGARY)

Nowhere, Now Here
Artist: Kevin Kastning (Contra-soprano guitar 30 strings, Contraguitars 17 strings and 16 strings) and Carl Clements (tenor saxophone, soprano saxophone, and alto flute)
Musical Work : Written by Kevin Kastning and Carl Clements
Artistic Design : Amanda Barrow
Technical Data: Recorded, mixed and mastered by Sándor Szabó Tandem Records Experimental Studio ( Vac , Hungary )

Musical compositions you'll want to hear a thousand times. All items in this album are a Masterpiece.
Merge musical instruments like guitar, alto flute, and saxophone offering edgy momentum in its definition of sound, is only available to a very small group of artists around the world today, and Kevin Kastning and Carl Clements have done so brilliantly and with talent in this new album "Nowhere Now Here." Released July 2013 through the prestigious Greydisc Records label, the clever play on words that gives life to its title has become the best presentation of Kastning's sublime musical treasure kept inside it, in fourteen exceptional compositional subjects acquire that irresistible physicality in the mind of music lovers. Lux Atenea Webzine readers interested in contemporary music will find this refreshing. The guitar offering the essential melodic basis on which to raise these brilliant instrumental structures, alto flute giving that background texture typical of the divine and the ethereal, and saxophone conquering our soul because this vibrant profile that always has its presence in a musical composition when it comes to reflect the constant state of uncertainty and transgression that characterizes the human spirit, this exceptional ensemble is seen as base colors being mixed by these two masters of the composition. In their album "Nowhere Now Here," a listener can drink the melodic essence, both searching a record edition and it is becoming harder to find and enjoy in its most pure and clear conceptual definition. "Nowhere, Now Here" is an album individualistic in orientation due to Kastning and Clements' metaphysical profile where perspective is one way. "Nowhere, Now Here" is perfectly recorded, causing the audiophile to observe their environment, their existence, and everything around them in another vision. Sometimes sublime, sometimes thoughtful, sometimes iridescent and energetic , than no doubt is that the versatile topics dimension, as the true and authentic sound, impeccably honest and sensitive in their creation and interpretation, clearly appreciating Sándor Szabó's hand in mixing and mastering, the stunning sound will impress during listening. In short, a sublime work presented in an elegant essential recording. Acquire this album if you want to experience emotions and sensations through the universal language of music. "Nowhere , Now Here:" saxophone, alto flute, and guitars is high musical achievement at its best, thanks to the expertise of these two virtuosos and their interpretive genius. Enjoy it!

- Lux Atenea Webzine (SPAIN)

Nowhere, Now Here
Kevin Kastning, Carl Clements
Greydisc Records GDR3515
Adventurous instrumental music is alive and well on the 2013 CD release of Nowhere, Now Here by guitarist Kevin Kastning and multi-instrumentalist Carl Clements. Commenting on their new CD together, Carl Clements adds, "Our goals on Nowhere, Now Here were similar to those for Dreaming As I Knew, but we also wanted to try to explore some different territory. Kevin and I have a long history as friends and musical collaborators, and music for us is a kind of conversation." Nowhere, Now Here is the first album of its kind to feature Kastning's new 30-string guitar and the results are sonically amazing.
The Greydisc label has released a number of excellent guitar-centric CD titles over the past 10 years and they continue onwards with the Summer 2013 CD release of Nowhere, Now Here — an instrumental duo album featuring guitar master Kevin Kastning and Carl Clements. Into his fourth decade as a musician, Clements is a noted horn player and on Nowhere, Now Here he's featured on tenor and soprano saxophone as well as flute. Somewhere between neoclassical and the fabled ECM style of instrumental / experimental music, Nowhere, Now Here features Kastning working magic on his new 30 string Contra-Soprano guitar as well as his patented 16- and 17-string Contraguitars. Paired with the sonic dexterity of Clements, Kastning is in rare from on Nowhere, Now Here, which continues onwards with a similar form of beguiling, magical musical ESP that works so well on his various collaboration albums. Clements—described as being conversationally inclined, explorative and emotionally invested in his musical approach—is the perfect collaborator for Kastning's deep web of sonic fretboard forays. Among Kevin Kastning's best collaborative works, Nowhere, Now Here is one of the most sublime sounding, relaxing and deeply introspective CD releases of 2013. www.kevinkastning.com / www.carlclements.com

– Music Web Express 3000 magazine (USA)
July 2013

Nowhere, Now Here

Kevin Kastning / Carl Clements

Greydisc - GDR3515



A review written for the Folk & Acoustic Music Exchange
by Mark S. Tucker
(progdawg@hotmail.com)

If you're by now familiar with the work of Kevin Kastning and his mysterious world of neoclassicial chamber jazz—and I've penned many a critique in FAME of his stuff, so what the hell's yer excuse, Jeremiah?—this CD, highly anticipated by me and his ever growing legion of sonically literate fans, is going to intrigue your obviously sophisticated palate due to its simultaneously idiosyncratic and baroque wonts. Nowhere, Now Here expands the Kastning catalogue modally by re-ushering in a horn player rather than a second guitarist and percussionist, as has previously mostly been the case.

As I've said, in many ways Carl Clements is a soul brother to my all-time favorite sax player, Jan Garbarek, because of his almost monastically outré stylings and thinkery blended with a bit of Charles Lloyd (Somewhen) and others. The imagery suggested by Kastning himself, in his many outings, has ever been of a Redon / Ernst / Miro / Klee / Pollock / Greco / Dali / Matta / Tanguy / etc. bent, and Clements injects an almost abruptly more the-rest-of-Oregon-esque element into what heretofore reflected a hell of a lot of Ralph Towner per se. Incomparably Light and Repose in fact sounds damnably like that magnificent band's earliest period (Music of Another Present Era and so on) rather then the Towner / Abercrombie collaborations frequently so meltingly, hauntingly displayed.

Though the liner notes do not say one way or the other, Kevin has worked almost exclusively in improvisational modes, so I'm guessing that's the case here as well, even though his entire oeuvre at first appears meticulously charted. Too, the gent's forever working with luthiers to produce new stringed instruments, and Nowhere features, among other things, the 30-string contra-soprano guitar and 17-string Contraguitar, as the "composer" (Kevin and I agree that all music writing is improvisational from the git-go) continues to wring from the material world that which will perfectly reduplicate what wafts through his incisive mind and imagination.

Nowhere, Now Here is another in a continuing set of entablatures of worlds we know, dream of, guess at, and are endlessly surprised by. You can start wherever you please in his lengthy catalogue and be just as at home and hypnotized as with any other of the CDs—this one, that one, it doesn't matter. All that's required is that you listen. The rest will take care of itself.
– FAME Magazine (USA)
July 2013

Kevin Kastning / Carl Clements — Nowhere, Now Here
(Greydisc GDR 3515, 2013, CD)

by Peter Thelen

Here we have something different. Not rock, not jazz, not really anything that can easily be categorized, perhaps something that might find a home somewhere between the ECM or Cold Blue labels. There are fourteen pastoral meandering compositions for 16 and 17 string Contraguitar, 30 string contra-soprano guitar, tenor and soprano sax, and alto flute. One might suspect that improvisation was the genesis of these compositions, but refinement and clarification have driven them to a state of idyllic perfection. There is plenty of variety in the combinations of instrumentation, but there are never more than two players at any time (no overdubs), and no percussion, so this is chamber music in a sense, in its purest form but beholden to no genre, certainly not classical, although one can hear the trace elements of many things from one measure to the next as each composition unfolds and reveals itself. Gentle, dreamy, dulcet, captivating, and explorative – just a few descriptives that are applicable here. There is very little repetition, so these pieces are always evolving and changing as they go along, moving forward and never repeating. Probably for this reason more than any, the listener can immerse themselves completely in this while it's playing, but retain little after the experience other than a memory of something curiously beautiful, but with few details.

– Exposé Magazine (USA)
July 2013

GREYDISC
KEVIN KASTNING-CARL CLEMENTS/Nowhere, Now Here
If you thought Toulouse Englehardt was playing guitar from Mars, Kastning is playing guitar from the next galaxy. Never covering the same recording ground twice, Kastning hooks up again with duet partner, sax/flute player Clements for a set of duo/chamber jazz from the future that should probably have been released on a label with a name like 'ECM Squared'. Deceptively simple stuff that will somehow turn your head to Silly Putty as it finds the vortex of jazz/new age/world/25th Century, Kastning is the new Charlie Christian--but of the distant future. If you're an acoustic guitar fan and you aren't hip to him yet, take your Smartphone or tablet to the bathroom the next time you think you'll be in there long enough to get some real reading done and run his name through our search box. Get on board, he's a once in a generation talent.

– Midwest Record magazine (USA)
July 2013
Kevin Kastning , Carl Clements: Nowhere, Now Here
The Kevin Kastning/ Carl Clements Duo appeared with a recent new album after the successful Dreaming As I Knew. Having a look at the instrumentation ( guitar and sax) the one can be surprised. Listening to the Nowhere, Now Here we can hear how much new possibilities were utilised on this album in the duo setup. Before we deal with the music in details we have to know that the album was released oversea ( Greydisc) and it is also important to mention that the album has a Hungarian concern. The mix and mastering of both albums was made by their frequent musician fellow Sándor Szabó in his mastering studio in Vác/Hungary.

The repertoire of the new album contains 14 tracks with a total of almost 80 minutes playing time, all the compositions are by the duo members. People who follow the the activity of Kevin Kastning know well that his music invites the listener to the transcendent reality. We can experience this again on this album. The title of the tunes like "traffic signs" suggest where we are on the road, on the inner road. We can enter the super highway by the opening track (Lunar Incantation Precision) and passing by various landscapes we can arrive at the destination (Both Ends of Two Rainbows).

The Nowhere, Now Here perfectly illustrates that the playing creates another world. Its rules temporarily suspends the rules and laws of the "real world". The most significant property of this " other world" is that it suspends the structure of time we can sense in the weekday life. The player has his its own time which cannot be measured and compared with the general units of time in a society, only with its own units. In the weekday world the time can be 3 o'clock, today, and this year, however in the world of playing the first track measures the time as a reference. The player exits the general time and enters another time.

The other property of the playing is the joy. The joy is the goal of the playing. If the the player reaches it, then the time structure of the player's world takes on the perpetuity. The time of the player is completely different than in the real world. The player enjoys the playing (creation) and he steps over from the chronology to the perpetuity. In the playing the time stops. The inner and ultimate goal and sense of the playing is proved by the transcendent experience. Though this statement can be construed as a propitious illusion and seems to be unproved, after all, any of us can experience the time of our deathless childhood. The adult can also experience the self-proving shine of transcendent joy a few times in its life. The ultimate proof of the playing recalling the childlike joy can be found in this music. We can hear and feel the joyful playing of two great musicians on an audiophile-quality Kastning/Clements album. This is the most significant release of the summer!
– HiFi Portal Magazine (HUNGARY)
August 2013
Kevin Kastning & Carl Clements - Nowhere, Now Here

Created on Wednesday, 25 September 2013
Written by Scott Mertens
Kevin Kastning & Carl Clements, Nowhere No Here as reviewed in The Phantom Tollbooth
Sometimes full of sorrow, sometimes full of joy, this offering takes the listener on an inner journey.

Artist: Kevin Kastning & Carl Clements
Label: Greydisc
Release Date: July 16, 2013
Duration: 14 tracks, 1:16:40

Kevin Kastning, having a number of albums to his credit, is an acoustic guitarist extraordinaire having invented the 30-string Contra-Soprano guitars and both the 16 and 17 string Contraguitars. Carl Clements is both a jazz master of tenor and soprano saxophones, as well as, alto flutes, again with many compositions. Together, their music is spacious and spiritual with Kastning laying the foundation for Clements to paint the picture with reeds.

Nowhere, Now Here features Kastning playing 30-string Contra-Soprano guitar, 14-string Contraguitar, 12-string alto guitar, and classical guitar, and Clements playing tenor and soprano saxophones and alto flute. The combination gives a sound similar to the '80s Jade Warrior prog/psych offerings crossed with an occasional pre-jazz fusion Miles Davis-like sound on Clements reeds.

Like a stroll through a dark, early morning forest, "Lunar Incantation Precision" sets the pace taking the listener to a private place. Throughout the collection the listener embarks on a dream-like voyage at times encountering darker imagery as in "Incomparable Light And Repose" and "Rust In Form," at others the tone is full of wonder and movement as in "Overmorrow I" and "Overmorrow II" with guitar rhythm easily accentuating the flute or reeds.

Throughout, there exists a personal, emotional experience. In a quiet place, with nothing specific to gain one's attention, the music takes over whisking the listener to another plain. An example of this experience is found in the intricate play between guitar and horn being full of wonder and adventure as found with "Into Propagation Suspension."

Adventurous, tone-true and very well balanced, Nowhere, Now Here tells a complete instrumental story. Sometimes full of sorrow, sometimes full of joy, this offering takes the listener on an inner journey.

— The Phantom Tollbooth (USA)
"Hi Kevin
I listened to Nowhere, Now Here for a few minutes before I left and to be honest i was too rushed to appreciate it but then I got a quiet evening to immerse myself in it and fully appreciate the music and instrument.
I have to be in the right place to listen to this kind of music but I got there and found it moving. The 30 string truly gives a unique sound to this album. At first many would wonder what they are listening to, Its almost like a Harpsichord at times, Its complexity and wide range really can be heard to the full.
I'm glad I have heard this now as it helps me understand you more and the music you needed this guitar for. Its starting to all make sense now.
Thank you
Alistair"
– Alistair Hay
Emerald Guitars (IRELAND)
"Finished listening to Nowhere, Now Here. Tracks 11, 12 and 13 are really stand out tracks - great. You're playing throughout the album is fantastic. I'm hearing sounds coming out of your guitars unlike any sounds I've heard out of a guitar before. I think your playing is going from strength to strength over the past two or three years. You seem to be able to able to create orchestral/chamber/quartet like textures and harmonic/sonic movements and with those bring real time composition to a new level."
– Mark Wingfield (UK)

Hi Kevin,
First of all, Nowhere, Now Here, a wonderful CD, I listened several times, I can not get enough of it.
Incredible voice is heard on the 30-string, fantastic, a brilliant musician Carl Clements, I like to play it. Very very nice work of art, congratulations to you. When I hear this kind of music, the sun shine in, thank you.
– Balazs Major (HUNGARY)
Dear Kevin,
This weekend I listened to your new CD with Carl Clements. Thank you so much for sending it over to me and to let you hear your wonderful music. I really enjoy this music! I was touched by the sound of your new Emerald guitar.
– Ralf Gauck (GERMANY)