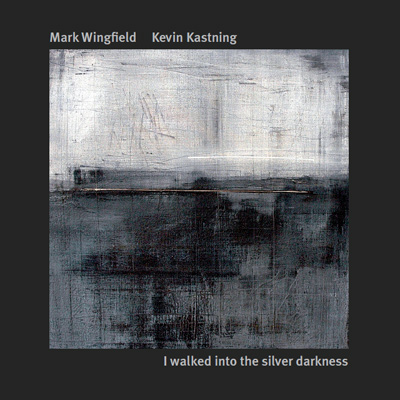 Liner Notes, Credits, and Special Thanks
Guitarists Kevin Kastning and Mark Wingfield both strive to transcend the traditional limitations of their instruments, albeit in very different ways. Kastning typically plays custom acoustic instruments such as 12-string extended baritone, 12-string alto, and his recently acquired 14-string Contraguitar. Wingfield eschews the typical magnetic pickups and amplifier in favor of digital technology that enables him to alter the attack, sustain, resonance, and other timbral characteristics of his electric, allowing him to, for example, articulate notes and phrases more like a horn or woodwind player than a guitarist. "The blend of Mark's unique electric guitar voices with my extended range instruments and unorthodox tunings created something very special," says Kastning. "I don't think we were prepared for what happened. The pieces just took on an organic life of their own."

Indeed. This music is unique. Although it represents the first time the two guitarists had played together, and was entirely improvised; or perhaps more accurately, "spontaneously composed." The music possesses a striking cohesion and the sort of nuanced interaction that usually only results from experience and familiarity. "There was an instant connection as soon as we started to play together," enthuses Wingfield. "We both seemed to know where the other was going next, though rather than thinking about it, I was simply absorbed in the music, listening and letting it happen."

Likewise, to fully appreciate this music it is necessary to listen and not just to hear. Those expecting to be met with prosaic guitar tones and gestures, or to be entertained, may experience difficulty. But open-minded listeners who surrender to the music's subtle gravitational pull will find themselves entering hitherto unexplored realms of extraordinary beauty and multidimensionality. Sonic automatic writing may appear in the audio ether, revealing intricate and frequently sublime structures within which dynamic lines interact across parallel planes, touching here, diverging there, while traversing shimmering harmonic clusters, dark pools of brooding dissonance, swirling eddies of polytonality, delicate microtonal wave fluctuations, and myriad serendipitous harmonic confluences.

Cosmic considerations aside, however, the success of this collaboration may also be at least partially explained by the fact that both artists come from compositional backgrounds that don't necessarily involve the guitar. Kastning puts it best: "That compositional approach and sense of form, structure, harmonic theory, and even narrative sparked a shocking beauty that is sui generis." Agreed.

- BARRY CLEVELAND
All compositions by Mark Wingfield and Kevin Kastning

Recorded at Studio Traumwald, USA
November 3 and 4 2010

Mixed at The Gravity Factory, UK

Kevin Kastning plays Santa Cruz guitars, Daniel Roberts guitars, and John Pearse strings.

Cover painting "Untitled No. 1, 2007" by Ken Browne.



Kevin Kastning is grateful to the many individuals who supported the creation and realisation of this work, including Mark Wingfield; Daniel Roberts at Daniel Roberts Stringworks; Richard Hoover and everyone at Santa Cruz Guitars; Mary Faith, Todd, and everyone at John Pearse Strings; David Browne at Enhanced Audio Dublin; and Karen.

Mark Wingfield gives special thanks to Kevin Kastning, Garry Robson at SCV London, and Gavin Miller at Kazbar Systems.

Mark and Kevin give special thanks to Billy Sheppard, without whom this album wouldn't have happened; Jane Wingfield; Therese Kastning; Ken Browne; Sándor Szabó; Brian Zolner and Casey Dowdell at Bricasti Design; Barry Cleveland at Guitar Player Magazine; René at vonGrünigmedia Switzerland; Katalin Nemeth; and everyone at Greydisc Records.
©2011 Greydisc Records, Suigeneria Music [BMI]