I first heard Balázs in 2008, on Sándor Szabó's album Echolocation I. Immediately I recognized in Balázs not a drummer, not a percussionist, but a true artist. Over the years, that impression has only become stronger. This album could not have happened without the kind of artistry, sensitivity, and imagination exhibited by Balázs. My goal for this record was not a duo setting in which the roles are broken down into soloist and accompanist, but a true duo setting of two equals, where each instrument bears the same compositional weight and importance. These qualities and more live and breathe In Balázs' playing, making this record possible.
This album is a first for me in more ways than one. It is my first duo record with Balázs Major. It was the first time I've recorded an entire album without additional material that goes unreleased. Though I have recorded albums in a single day, this is the first time I've recorded an album start-to-finish in one sitting without taking a break. And it is the first time I've recorded an album using only one instrument; in this case, the Emerald Guitars Kevin Kastning Signature Series 30-string Contra-Alto guitar.
Kismaros was recorded at the close of the 2018 European Tour. We were in the studio; in this case, recording on-location at the concert hall in Kismaros, Hungary. We were recording trio and quartet sessions, but I wanted to try recording a single duo piece with Balázs. I had a thought that if it was successful, then maybe one day in the future we could discuss recording an entire duo album project. We recorded a single piece early that morning, and we both thought it went well and had a good energy about it. Our mutual friend and collaborator Sándor Szabó, who was there with us for trio and quartet recordings, insisted that we record a complete album of material right there, right then. By the time we broke for lunch that morning, the album was completely recorded.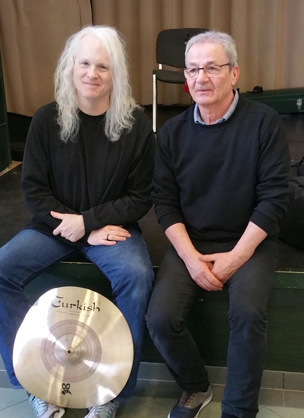 For most album projects, the material on the final record is only part of what was actually recorded for that album. There are always extra pieces remaining unreleased that for various reasons are not released as part of the album; perhaps it is a run-time issue, or the pieces may not fit the overall theme or direction of the album. In the case of this album, only seven pieces were recorded that morning. Ergo, the entire recording session of 15 May 2018 is released as this album. Furthermore, the pieces are presented here in the exact order in which they were recorded. In this manner, you can hear the entire recording session as it unfolded that bright spring morning in Kismaros, Hungary.

This is a very special recording for me. I have toured with and recorded other projects with Balázs, but this is our first duo outing. And, I hope, not our last.

- Kevin Kastning
Massachusetts, US
24 May 2018
At the completion of Kevin's European tour, we planned to make trio and quartet recordings featuring Kevin, Sándor, Roland Heidrich, and myself. On the second day of recording, we planned to play quartet pieces. Kevin asked me to warm up with a duo piece. He mentioned that sometime in the future, he might want to make a full percussion/guitar duo recording with me. After the first piece, Sándor proposed to us to continue with the duo to make a duo recording right then. The idea of a duo recording came so suddenly that I had no time to think of a concept for what to express in a duo setting. It was really a spontaneous, exceptional opportunity for duo, and in a few hours we recorded a full album as if we had prepared for it. The pieces were deep, nature-related, strongly enigmatic. As for myself, after recovering from a serious illness, this was my first work which was played in an entirely different music concept compared to my previous works. This was a huge challenge. I felt like I was standing at the border of a never-experienced new world and I have to discover it with every hit on my percussion. I got so many miracles from Kevin's playing, he inspired me so deeply that the music just happened with no efforts. The recording environment was perfect and I could enjoy my friends Sándor's and Roland's selfless support. I am very proud of this duo album and I express my thanks to Kevin, Sándor, and Roland.
- Balázs Major
Vác, Hungary
18 June 2018

"In the early 1980's, the famous duo of guitarist Egberto Gismonti and percussionist Nana Vasconcelos played in Debrecen, Hungary on the greatest Hungarian Jazz Festival of that time. It was a great experience to go to that concert with my percussionist friend Balázs Major to see and hear the two giants. Egberto and Nana played a new kind of music influencing us so deeply that 36 years later we still recall and mention that magical concert. At that time, a percussion/acoustic guitar duo was unusual; this was made even more striking by the exceptional way in which the two Brazilians played together. From that moment, they became the main reference for us as a duo in many aspects: original, exotic, exciting, seducing, spiritual, and more.

Since that time, Balázs and I released several duo albums and and sometime I still recall that music and try to judge how much we could achieve of the aspects of this reference music.

In May 2018, after our European tour, we came together with Kevin Kastning and Balázs Major to record new trio pieces, but the recording day did not begin as we had planned. Kevin and Balázs started to improvise just to warm up, and after a few minutes I had goosebumps on my arms and I wished that they would play more and more. When they finished the warm up, I suggested them to go on with playing and recording in duo because I had just heard such magical moments which should be recorded for an album. It happened so. Since that time, the CD is released and in hearing the music of Balázs and Kevin, Egberto and Nana comes into my mind as a reference. What I heard on the album is again what I heard that morning: original, exotic, exciting, seducing, spiritual music. For me this is a new music; another reference which proves that there are still endless possibilities in a guitar/percussion duo to explore. I am very glad to be part of this kind of creation."

- Sándor Szabó
Vác, Hungary
16 June 2018

© 2018 Greydisc Records / Suigeneria Music [BMI]